Der openUSBLoader mit Netzwerksupport !!!
Mit diesem Loader könnt ihr also eure Games von HDD, USB Stick oder direkt von eurem PC (SMB) abspielen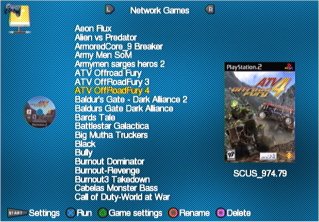 Das Programm läuft auch auf der PS3 (60 gb Version).
DEUTSCHES BENUTZERHANDBUCH ZUM OPL 0.7 by PS3-TOOLS.DE (KLICK)
Aktuell ist v 0.9.3
Version 0.8 Edit by M tha MaN
-------------------------------------------------
Core:
* secure authentication for the SMB module (to enable security and write access)
* new GUI, fully customizable elements
* various SMB tweaks (NBSS keep-alive, small ingame speed-up)
* improved NAS support for more devices (WD MyBook, Digitus NAS, ...)
* added an embedded HDLServer into OPL to install HDD games
* various debugging output option (to help debug failing games)
* add compatibility for new external USB HDD with 1k/2k/4k cluster file
* add full compatibility for old PS2 consoles (10k JAP)
* ISO format added for USB too (still there is the 4Gb file limit, which is not present on SMB)
* new compatibility modes
* childproof mode (settings are locked)
* alternate startup mode, for loading/saving configuration files from USB and HDD (no need for MC in this case)
* added new menu to launch external ELF applications
* added VMC (Virtual Memory Card) support
* improved general compatibility (many specific games now working for the first time)
GUI:
* new multi-threaded and redesigned GUI
* support for Cover, Icon and Background Art
* skinnable interface using theme
* added "rename" and "delete" functionalities for games lists
Version 0.7 edit: toto67
-------------------------------------------------
* Improved network startups and various fixes
* Added internal HDD support (HDL format)
* Added the ability to choose the default menu (USB, NET, HDD games)
* Added the ability to use a valid disc ID for online games
* Added a fix for modchip freezing (maybe not all modchips)
* Many new game compatibility fixes
* Added IGR (In Game Reset) with a disable per game option
* Added Alphabetical Sorting
* Changed Settings categories
* Added page scrolling (R1/L1)
* Added support for user language files
* Network support added for PS3
* Zipped Theme support
* Added PCMCIA support for the 18K
Englische Anleitung !!!
Version 0.6
-------------------------------------------------
- Switched to whole new IOP core
- Changed some compatibility modes effect
- Added compatibility for DVD9 layer1
- Improved overall speed for both SMB/USB
- Support for more embedded NAS devices
- Support for multiple partitions

Open PS2 Loader is a 100% Open source game loader compatible with USB Advance/Extreme game format. It's more compatible and it should work without ps2load or change DNASXXX.IMG tricks.

Open PS2 Loader also is developed continuously and anyone can contribute
improvements to the project.

The main objective is to support both the PS2 and the PS3 with backward
compatibility.

Tool zum umwandeln eurer Game-Iso´s zum USBLD Format --->
KLICK
Alte Infos aus ehem. Beta Versionen:
Ifcaro ist dabei einen PS2Game Isoloader für die 60gb Variante der PS3 zu entwickeln.
Der homebrew + opensource Loader sollte aber auch auf der PS2 funktionieren.
Als Basis wurde das HDDHomebrewprojekt genommen und mit einem GUI und dem Loader selber erweitert. Leider werden derzeit noch 2 Modle vom eigentlichen USB Advance benötigt.
Und hier ein weiteres Video der neusten Version Open PS2 Loader 0.7
hier sieht man auch das das Game Everybody's Tennis funktioniert das auf der internen HDD mit einem Loader nicht funktioniert
[size=7]Edit by Ribbon[/size]
Hier noch mal ein How To um Games vom PC aus mit der PS2 mit Open PS2 Loader 0.7 zu starten
[size=7]Edit by Ribbon[/size]
Hauptdesigner vom OPL sind: Ifcaro, volca, jimmikaelkael, polo35, izdubar, den release Thread findet ihr auf
PSX Scene
Wenn ihr Probleme mit dem OPL habt, einfach hier im Thema Fragen.
Die aktuelle Version findet ihr immer hier im Anhang, weitere/andere Versionen (gsm, vmc usw.) findet ihr im Thread auf psx-scene:
psx-scene.com/forums/f150/open…r-project-v0-9-2-a-62141/
Spielekompatibilitäts Liste:
sx.sytes.net/oplcl/games.aspx