Hier findet Ihr AKTUELLE UPDATES vom
MultiMAN (MultiManager) by DeanK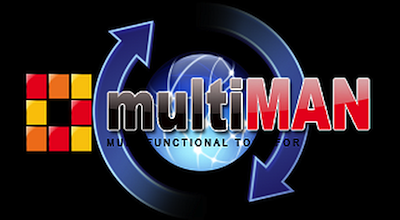 DER MultiMAN

ist ein multifunktionaler Backup Manager

der von DeanK entwickelt und ständig erweitert wird.


Durch seine vielen Funktionen ist der MultiMAN zu einer

fast perfekten Systemerweiterung

der PS3 geworden. So bietet er u.a. FTP Client, Dateimanager, Mediaplayer uvm. so da er seinem Zusatz

"Multi"

mehr als gerecht wird. Ab v04.00.00 kann der MultiMAN mit

"FAST"

allen CFWs 3.41 - 4.xx genutzt werden, ab v4.20.00 nur noch mit CFWs 3.55 - 4.xx CEX/DEX/REX.

ALLE INFORMATIONEN ZUM multiMAN
(Klick mich !!!)
nur für 4.xx CFWs: hat ein Spiel eine höhere Firmware als die Installierte CFW, kommt von multiMAN beim ersten starten des Spiels eine Patchabfrage / Meldung, "The game requires 4.66 firmware version.

(Die Firmwareversion die das Spiel verlangt)

Do you want to change it to your current 4.46 version?

(Die CFW Version die auf der PS3 Installiert ist)

NOTE: The operation will fix 80010009 errors for 4.20-4.31FW games/updates if files are encrypted witch 4.20/0x1C or lower key revision."

(die Abfrage ob multiMAN das Spiel patchen soll)

Bestätigt man mit "ja" wird das Spiel für die Installierte CFW gepatcht jetzt kann man das Spiel starten und spielen. Installiert man Spieleupdates die eine höhere Firmware verlangen, patcht multiMAN die Spieleupdates beim erneuten Auswählen des Spiels in multiMAN automatisch für die CFW Jetzt kann das Spiel mit Spieleupdates gestartet und gespielt werden WICHTIG: multiMAN kann

keine

ISOs patchen!!!
TOOLS & APPs
[RELEASE] MultiMAN als "FirstPlaceApp" by psXtools.de

(Klick mich !!!)
StDISC PKG - Showtime Disc Access Plug-In
(Klick mich !!!)
Copyright by ps

X

tools.de(Kopieren, bitte nur mit korrekter Quellenangabe !!!)