Team Xecuter released eine public beta für Fusion.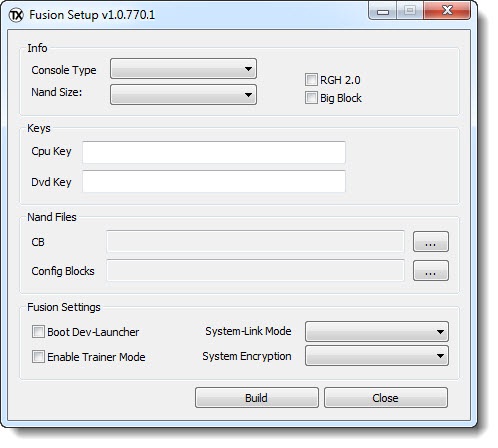 So wird es installiert:
-->
team-xecuter.com/forums/showthread.php?t=86147

What is Fusion?

Fusion is a hacked devkit kernel that runs on retail RGH hacked consoles. Think of it as a modified OS for your xbox console. It brings you all the features and capabilities of a real devkit without all of the annoyances. Fusion is more powerful than any normal devkit or modified retail console. It is designed for both developers, and gamers, bringing the best of both worlds together .

For Gamers

Fusion may be designed on a kernel made for developers, but there are many features exclusively for gamers:

No system-link ping limit, can also system link with both retail and devkit consoles
Can use both retail and devkit gamer profiles. saves, and game content
Boot straight to your dashboard of choice
No restrictions on games or content
No region checks
Arcade games are fully licensed all the time
Multi-disc games can be ran off the hard drive with no insert disc messages
Built in trainer launcher
Can easily boot xell, trainer launcher, and settings manager via custom tab on xbox guide
Games copied to hdd via dashboard no longer need the disc in the dvd drive to play
And much more...

For Developers

Because fusion is based on a devkit kernel developers may take advantage of all the features of a real devkit, as well as new features exclusively for fusion users:
Turns console into full devkit
Full debugging capabilities
Works with microsoft tools and sdk
All internal drives are mapping in Xbox Neighborhood
Xex security checks have been removed
Full memory access as well as hv privileged access
All system keys are accessible with user mode access
Can use both retail and devkit devices
And much more...

Who is Fusion For

Fusion is currently in its early stages of development which means there may or may not be bugs in the software, some standard features may not work as expected, and it may not be user friendly to everyone who uses it. It is recommended that you have a moderate understanding of basic RGH techniques, installation procedures for common homebrew software, and good problem solving skills. Everything you need to know as far as installing/updating and using fusion has been thoroughly documented in this readme. If you cannot follow the instructions documented in this readme then it is recommended you seek assistance online for installing and using fusion.

Changelog:
v1.0.9
+ Bug in custom boot animation fixed, users can now update from
older versions of fusion without black screen at boot.
v1.0.8
+ Dashboard and dev-launcher can now be remapped to custom
dashboards via firmware settings
+ Marketplace tab in guide has been changed to Fusion tab
+ BootOS is now built into fusion, allowing users to boot xell
+ Trainer launcher, firmware settings, BootOS and dev-launcher are
now accessible via Fusion tab in guide
+ System files are updatable via stand alone updating utility
+ Pressing start at dev-launcher boots to custom dashboard if one
is set
+ Fixed multiple issues with the bootdisk
+ Bootdisk can now be ran via usb stick
+ Recovery mode has been added via usb stick bootdisk
+ Fixed system extended packages on retail hard drives. All sysext
files are now loaded from Firmware:\\SYSEXT\\
+ Fixed UAC issues on windows 7/vista
+ Fixed a bug in the fusion setup tool that would cause it to crash
on windows xp
+ Quicker boot animation added
v1.0.6
+ Ported to retail consoles
+ Added XeKeys status to ConfigManager console info screen
+ Trainer launcher added, accessible through hot-key launch
v1.0.5
+ Hdd load redone, now works 10x better
+ Arcade license patch fixed to work with all arcade games
+ Hud.xex button remaps now work when in dashboard
+ Kernel folder has been changed to Firmware
+ Neighborhood now maps a few more drives
+ Major code/patch revamp and clean up
+ Retail and devkit profiles can be used, all profiles written as dev
+ Games ripped to the hdd no longer need the disc in drive to play
+ Minimum version check on module imports removed
+ Removed hdd authentication checks, retail and dev hdds now work
+ Multi disk games can be ran from the hdd without problems
v1.0.4
+ Changed hdd loader to be dynamic
+ Fixed a bug with HvxPeekPoke
+ Repurposed "Family Settings" in hud.xex to "Firmware Settings"
+ Added Config Manager to change fw settings
+ Xbdm.xex patched to show all drives in explorer
+ Xbdm.xex now mounts Kernel
+ Xex module hash checks removed
+ Fixed a dvd drive pairing bug in ConfigManager
+ Fixed a bug in xbdm.xex with mapping KERNEL:\\
v1.0.3
+ Hv extensions re-enabled
+ All XeKeys values unblocked
+ Syscall 0x75 is HvxPeekPoke(ULONGLONG Dst, ULONGLONG Src, DWORD Size)
+ Loads retail xex files
+ Loads retail game disc's
+ Bypass xex version/media/bounding path/region checks
+ Xam/xbdm/bootanim.xex are loaded from Hdd:\Kernel\
+ Boot into recovery mode by eject press
+ Unsigned containers allowed
+ Unlicensed/unpackaged arcade games are full
+ Slim testkit bug fixed
+ Internal drive map always enabled
Fusion added features
- Boot in safe mode by pressing eject to boot (dev only)
- Loads alternate system files from Firmware\Kernel\
- Both devkit and retail hardware/accessories work
- Switch between retail or devkit system link encryption
- Switch between retail or devkit system encryption
- Bypass booting to dev launcher
- Pair any dvd drive to console
- Display cpukey, dvdkey and other important information
- Both retail and devkit profiles can be used simultaneously
- Multi disk games can be ran from hdd without problems
- Trainer launcher accessible through hot-key launch
##################################
########### TO BE DONE ###########
##################################
- Fix support for games that require dashboard 14179 (Max Payne 3 etc)
- Add custom boot anim support for the end user
- Lots of other features TBC
##############################
########### THANKS ###########
##############################
Thanks & Greetz go out to who were directly or indirectly involved in the Fusion project.
TheFallen93, Sonic-Iso, Xenon.7, Redline99, Tiros, c0z, l_oliveira, MODFREAKz, xorloser, k3rn3l, Podger, tuxuser, stefanou, Xmods, RF1911, tydye81, RickyB82, BaT420, BraveH43, Carlitosb, CouRieR, Cypher21, IceKiller, J2G, jsinger47, MomDad & prankster,
For those of you getting LIBEAY32.dll missing when running the fusion exe you can download it at the link below. Copy and paste the DLL to the Fusion setup folder.
dll-files.com/dllindex/dll-files.shtml?libeay32
Download 1.0.7
Download 1.0.7 repack
Download 1.0.8
Download 1.0.9
Alternativdownload zur 1.0.9:
Kein Support per PN oder E-mail!!!

Regeln und Hinweise für den An / Verkauf!!!
-
USK 18 Bereich!
-
Thanks @PS3-Tools.de
"Wenn du eine weise Antwort verlangst, musst du vernünftig fragen!"
Johann Wolfgang von Goethe
Dieser Beitrag wurde bereits 1 mal editiert, zuletzt von Thargor ()