Es wurde eine Möglichkeit gefunden den 4GB NAND einer Corona auszulesen.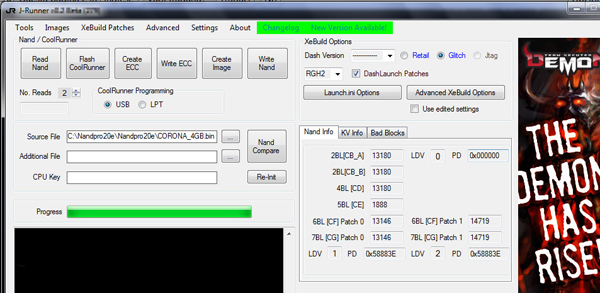 Einziges "Problemchen" ist dass beim Physon Chip das ECC Handling anders ist, deswegen müssen neue Skripts her.



Alles was zum auslesen des NANDS benötigt wird ist ein SD
-Card Reader (PDF im Anhang).


As you know (or should know) we are back from summer vacations and working on 1175 FW, Corona 4Gb, the new 15574+ dash and various addons such as WiFi for the DemoN.

Lot's of good progress is being made along with some fun new tools which we will get to in another new post.

A few weeks ago it was reported that ZacKwaRRior had managed to dump 4GB and boot Xell

Since then some friends on xbh had shared some interesting docs for the Phison PS7000 that opened up a lot of new ideas and progress has been swift.

Today a French scener SEB117 (please correct me if I'm wrong) has released a doc which enables mounting of the 4GB as a standard drive letter in Windows using a standard SD card reader and the data is read using WinHEX - fun stuff

There are several known issues with regards to ecc and that is why only Xell is booting at this time - but we are very much on the case with getting freeboot working

We are currently working on finishing code to accommodate the 4GB and also creating new scripts for python/xebuild etc. As soon as we have fixed the ECC issues we will let you know.

All current CoolRunner Rev C's with the Corona QSB Upgrade and also the CR3 Lite are compatible with the 4GB.

Thanks again to SEB117 for his doc (again I'm not 100% but I think he is part of the Glitch360team from France - but if I'm wrong please correct me)

J-Runner Screenshot With 4GB nand Dump Loaded

Thanks to ZacKwaRRior, SEB117 and the French 360GlitchTeam for this info.


Quelle: Team-Xecuter.com
Kein Support per PN oder E-mail!!!

Regeln und Hinweise für den An / Verkauf!!!
-
USK 18 Bereich!
-
Thanks @PS3-Tools.de
"Wenn du eine weise Antwort verlangst, musst du vernünftig fragen!"
Johann Wolfgang von Goethe