Enstone hat die Control Console API auf v. 2.70 (rev4) geupdated,
so dass nun die aktuelle 4.80 Firmware unterstützt wird.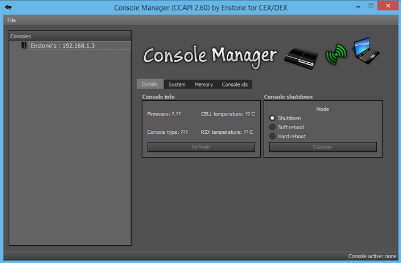 Für alle, die das CCAPI nicht kennen: hierbei handelt es sich um ein
(insbesondere bei moddern/cheatern) beliebtes Tool mit dem eine Verbindung zwischen
eurer PS3 (CFW) und dem PC hergestellt wird, was euch diverse Möglichkeiten bietet.
Changelog
2.70
(rev4) Added 4.80 DEX support
(rev4) Added 4.80 CEX support
(rev3) Added 4.78 DEX support
(rev2) Added 4.78 CEX support
(rev2) Added 4.76 DEX support
Added other platform support
Optimized network bitrate

2.60
(rev7) Added 4.76 CEX support
(rev6) Added 4.75 DEX support
(rev5) Added 4.75 CEX support
(rev4) Added 4.70 DEX support
(rev3) Added 4.70 CEX support
(rev2) Added 4.66 CEX support
Added 4.60/4.65 support
Added Cobra support
Added SetBootPsid/SetBootIdps/SetPsid

2.50
Added 4.53/4.55 support
Added a console list

2.00
Reduced memory use
DLL (C++ / C#) released to build programs for ccapi

1.00
Original version

Zum Beispiel
- Debug non-fself & fself in real time
- Real time memory edit on CEX/DEX
- Wire(less) connection
- Module loading
- Modify idps and psid
- Edit console Leds
- Ring console buzzer
- Get ps3 temperature

Weiterhin könnt ihr hiermit auch VSH Module laden lassen.
Die zu ladenden prx´es müssen einfach in das Verzeichnis
/dev_usb000/plugins/prx_name.sprx
....
Alle Plugins die dort liegen werden beim hochfahren der PS3 geladen. Falls der Ordner nicht vorhanden ist müsst ihr ihn halt erstellen. Wenn es Probleme mit bestimmten Games geben sollte wird empfohlen Plugins zu entfernen.
Um CCAPI zu nutzen müsst ihr die .pkg aus dem Download einfach auf der PS3 installieren. Nach dem Starten werdet ihr aufgefordert einen reboot durchzuführen, danach steht euch das Tool zur Verfügung. Auf dem PC (Windows) musst ganz normal die .exe ausgeführt/installiert werden. PC und PS3 müssen sich natürlich im gleichen Netzwerk befinden.
Download: https://mega.nz/#!OQ4gnIJD
alternative: http://www.mediafire.com/download/82daazd0widv50c/CcApi_package_2.60_Rev7.rar
Newssource: frenchmoddingteam.com/shop/app…api-2-60-rev7-rte-cex-dex via psx-place.com