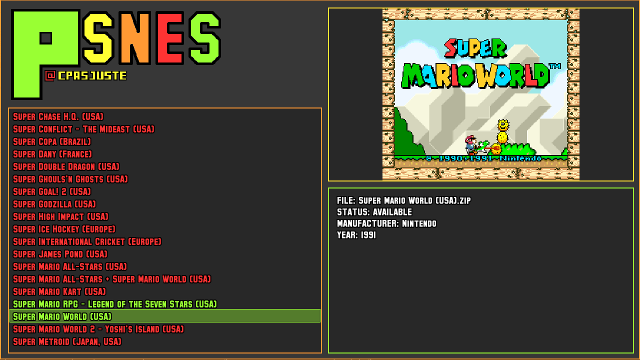 pSNES ist wie man dem Namen entnehmen kann eine Portierung des berühmten SNES-Emulators snes9x für die Switch
Hauptziele:
Benutzerfreundliches Interface auf nicht-Windows-Geräten

Nutzung eines aktuellen Rendering-Interface für Geschwindigkeits- undt Effekteunterstützung

Cross-Plattform und Code-Portability

einfache Updates des snes9x-Kerns (keine Modifizierungen an den originalen Quellen)

Derzeit unterstützte Geräte:
Linux (sdl1, sdl2)

Nintendo Switch (libnx, sdl2)

Sony Ps Vita (vitasdk, vita2d)

Features:
Unterstützt save states

Unterstützt 2x, 3x, fit, fit 4/3 und Fullscreen hardware linear scaling

Unterstützt software filtering (tv2x, smooth, supereagle, 2xsai...)

Unterstützt Vorschaubilder (png), die den gleichen Namen haben wie die ROM (Diese müssen in den previews-Ordner, welcher bei Bedarf erstellt werden muss)

Unterstützt Datenbankdatei für das ROM-Handling. Ihr benötigt eine Datei Namens db.xml, die sich neben der Anwendung befindet. Die aktuelle Datei db.xml stammt von dat-o-matic und enthält ein vollständiges "no-intro" -Romset. Eure ROMs müssen gemäß diesem Set gezippt und benannt sein (datomatic.no-intro.org). Ihr könnt diese Option im Optionsmenü aktivieren / deaktivieren (Neustart erforderlich).

Installation (Switch):
kopiert den psnes-Ordner in den switch-Ordner auf der µSD-Karte

kopiert die Roms in den/switch/psnes/roms/-Ordner auf der µSD-Karte

Steuerung:
Press (+) in the rom list to configure main options and default roms options

Press (-) in the rom list to configure per rom options

Press (+) AND (-) when in emulation to bring the options menu

Thanks
ScHlAuChi
devkitPro and libnx people: yellows8, plutoo, profi200, WntrMute ....
ScHlAuChi again
Download:
-->
github.com/Cpasjuste/pemu/releases
gbatemp.net
Kein Support per PN oder E-mail!!!

Regeln und Hinweise für den An / Verkauf!!!
-
USK 18 Bereich!
-
Thanks @PS3-Tools.de